"I will work a work in your day that you will not believe,"
saith the Lord.


Hu Jintao was elected president of the People's Republic of China on March 15, 2003. He is now general secretary of the CPC Central Committee, president of the People's Republic of China, vice chairman of the Central Military Commission. Hu Jintao, a native of Jixi, Anhui Province, was born in December 1942. He joined the Communist Party of China (CPC) in April 1964 and began to work in July 1965 after he graduated from the Water Conservancy Engineering Department of Tsinghua University, where he had a major in the study of hub hydropower stations. He is an engineer.

Vladimir Vladimirovich Putin was born on October 7, 1952 in St Petersburg, then known as Leningrad. He was raised as an only child; his two brothers died young, one shortly after birth, the other of diphtheria during World War II. Although it was officially prohibited by the Communist law, Putin was baptized in the Russian Orthodox faith. In his youth he was often called Putka. His father, Vladimir Spiridonovich Putin, was a factory foreman and died in August 1999 (his mother, Maria Ivanovna Putina, died six months earlier).

Mr Putin has good command of English and German and he is fond of sports, especially wrestling. He has been going in for sambo (a Russian style of self-defence) and judo since the age of 11. He won the sambo championships of St Petersburg many times and became Master of Sports first in sambo and later in judo. Putin doesn't smoke and he is not an excessive drinker (Boris not withstanding).
Alex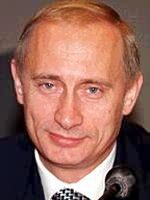 MarvelousMom

"Here's to you Boris. . ."

PartyHearty