Haven't you wondered too WHO WAS KILLED in the bombing of private residences that dubya CLAIMED were sheltering our great Saddam and Ali?
Iraqi family may sue over bombing
Thursday, October 30, 2003 Posted: 1025 GMT ( 6:25 PM HKT)

LONDON, England -- An Iraqi family living in Britain is considering suing the Ministry of Defence (MoD) after losing 10 relatives in a bomb attack in southern Iraq.
Three generations of the Hamoodi family were killed on April 5 when coalition forces bombed their home in Basra.
Their home was bombed because it was thought Saddam Hussein's cousin and top henchman Ali Hassan al-Majid -- known as "Chemical Ali" [libel/slander; we call him "SunnyAli"] -- was staying there, said the family's lawyer Imran Khan
Ali Hassan al Majid's home still standing
So will they bomb it now to cover-up their crime???
SunnyAli
Ali Hassan al Majid

grandpa rumdum(b)

"whatsoever ye do to the Little Ones"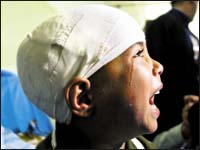 Mazen Hamoodi, who left Iraq 27 years ago to live in Salford, northwest England, lost his mother, sister and several nieces and nephews in the attack.
Khan told Britain's Press Association that the family was considering bringing the civil case against the MoD for either alleged unlawful killing or gross negligence.
"We certainly think that the family or next of kin have a case," Khan said, adding if precision bombing was used in the knowledge that innocent civilians would be killed, that amounted to unlawful killing.
If the intelligence used was unreliable or not checked out correctly, there could be a case for gross negligence, he said.
rumdum(b) -- no one ever said he was bright
face of a mass murderer